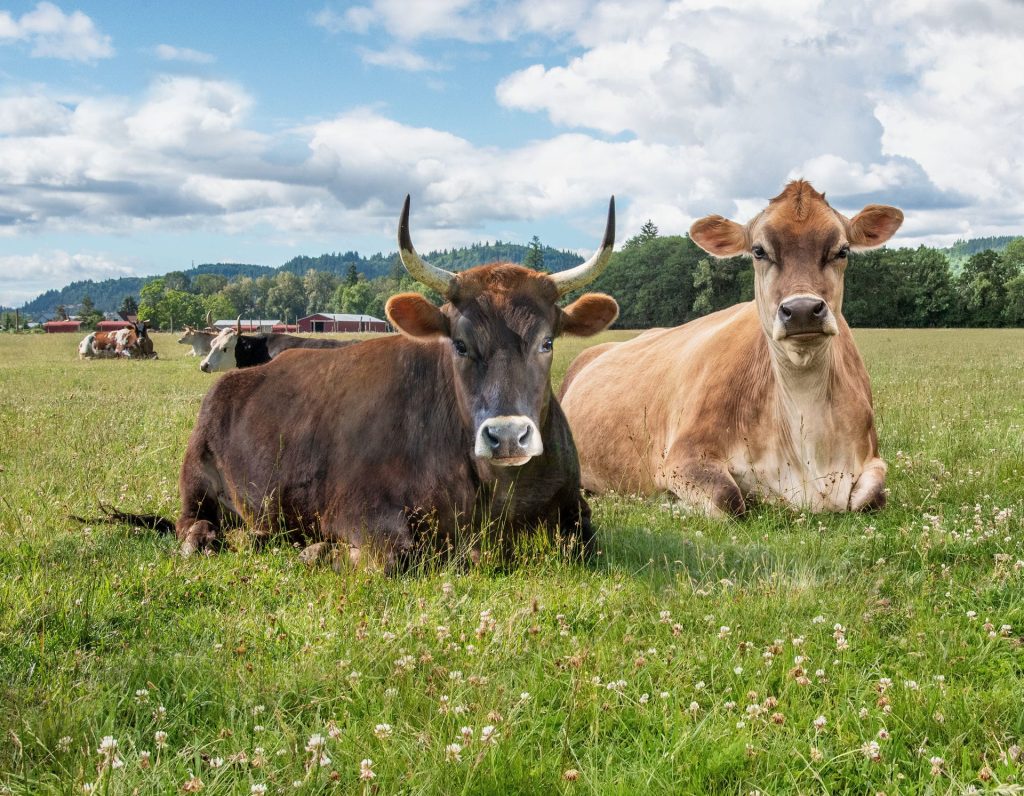 Nestled in the beautiful Willamette Valley of Oregon, Lighthouse Farm Sanctuary, the oldest sanctuary in the state, sits on 54 acres. Our open-concept sanctuary allows our rescued animals to enjoy a fully self-actualized existence. With access to lush pastures, dense oak groves, and a multitude of warm barns and structures, the animals have the choice to spend their days exactly how they please.
We've found that our rescued friends find more complete healing from the suffering they've endured before coming to sanctuary when given the chance to live in harmony with each other. You will find no cages here. In the summer months pigs, cows, and horses can be found enjoying a cool respite beneath the leafy canopy of the oak trees. In autumn, when the oak trees release their acorns, our 137 pigs enjoy hours foraging through the forest floor for the nutty treats – pigs are naturally woodland creatures, so ensuring they have access to forage and root in the soil is essential to their happiness and well-being.
Even in the dark cold days of winter, the animals have many spots throughout the sanctuary where they can snuggle in fresh, warm straw and enjoy the beauty that surrounds them. All of our rescued animals cohabitate peacefully and have strong friendships with one another. Our sanctuary is home to over 250 rescued animals who have seen the very worst of humanity and every day they amaze us with their profound abilities to love and to be loved, even after the tragedies they have endured. Our goal is to share their stories with the community and bring about positive change in the way they are viewed by society. By fostering beautiful, meaningful bonds between people and the animals they may see as "food" or as "things" we are changing the future for the individuals who mean so much to us. People who visit and volunteer at the sanctuary often comment on the unique sense of peace they feel when being here. We like to call it a kind of magic created by love, trust, and understanding.
How we put our mission into practice:
Community Outreach
We work to raise awareness through attending events, conferences, street outreach, and online education.
Youth-based education and outreach
We see so many parallels between the animals we care for and underserved youth in the community, so we created a program to provide at-risk youth with opportunities for job skills and life development in a compassionate environment.
Our at-risk youth groups come out once a week throughout the year to assist in animal care, property maintenance, gardening, and other duties. Many of these kids would never have the opportunity to work side by side with farmed animals and the experience allows them to make more compassionate choices in their day-to-day lives. If you'd like to get involved, please contact us for more information.
Providing outstanding care
Animal care is our number one priority and we pride ourselves on assuring all of our rescued animals have access to quality vet care, nutritious food, and safe shelter. We have gone a step further by partnering with S.A.R.A. (Shelter Animal Reiki Association) so that we can continue to learn new ways of healing and building trustful relationships.
Advocating compassionate living
We encourage everyone who visits the sanctuary to think critically about their food, clothing, entertainment and product choices. Going vegan is one of the most impactful ways you can improve non-humans animals lives and the planet we share with them.